Advantages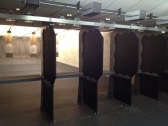 Decide ahead of time which firearm is for you when you have personal range time with one of our instructors.
Purchased a new firearm? One of our instructors will help acclimate you to your new firearm (includes instruction in acuracy, cleaning, and anything else you want to know).
Testimonial
I just received my LTC Class A with no restrictions and I live in a very difficult town. Your company was the reason I got it. Thanks again for all the help.